We are thrilled to announce that a remarkable new item is now available in the Bench Store. It is our privilege to present you with Briley Altman's personal arrangement of "Great is Thy Faithfulness" and "Amazing Grace".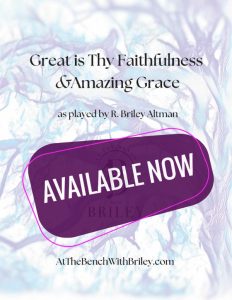 These timeless hymns, cherished by many for their spiritual depth and comforting tone, have been lovingly interpreted by Briley. Known for his unique blend of traditional and contemporary styles, Briley brings these hymns to life with his characteristic touch, preserving the original essence while lending his personal nuance.
We wanted to create an opportunity for all music lovers, regardless of their skill level, to delve into Briley's interpretation. The sheet music gives you not only the chance to play these beloved hymns but also to understand and emulate the finesse of Briley's performance style. This item is sure to enrich your piano skills and deepen your connection to these revered hymns.
In keeping with tradition this arrangement reflects Briley's commitment to maintaining the original spirit of the hymns while offering a fresh perspective. With this digital sheet music, you can recreate these familiar melodies with a touch of Briley's inspired vision at your own pace and in the comfort of your own home.
We encourage everyone, from the seasoned pianist to the beginner player, to check out this new item in our Bench Store. It is more than sheet music—it's an opportunity to journey into the heart of these hymns as seen through Briley's thoughtful approach.
"Great is Thy Faithfulness" and "Amazing Grace" hold a special place in our hearts, and we are confident that Briley's personal arrangement will make them resonate even more profoundly for you. Head over to our Bench Store now and let the melodies of these beautifully recomposed hymns fill your home.
Thank you for your continued support of 'At The Bench With Briley'. We look forward to sharing more exciting updates and releases with you soon!
Happy playing,
The 'At The Bench With Briley' Team